Refurbished xTool Laserbox Rotary 40W

⏰ Limited stock, grab it before it's out of stock!
🎁 Free Material Kit is included for your refurbished machine.
US only, shipping in 1-3 business days
12 month warranty
xToolCare applicable
Refurbished Laserbox Rotary is a 40W CO2 laser engraving and cutting machine. Low stock, find your desired products now before it's out of stock

xTool Refurbished Products Policy
xTool Good Refurbished Products are pre-owned, which have undergone xTool's stringent refurbishment before sale. They are expertly inspected and fixed up as renew ones.
Substantial Savings for a Fully Functional Product
We make sure refurbished products are fully functional before sale, offering an enjoyable discount (up to 28% off).
Your Must-Know Before Purchase:
▸ Each xTool Good Refurbished Product: 
Undergoes full functionality testing, where any defective modules are replaced; 

Is put through a thorough cleaning and inspection process; 

Is repackaged (including appropriate manuals, and parts);

Undergoes the same basic testing procedures and is assessed with the same technical guidelines as new xTool products; 

Some of the refurbished products may have slight signs of wear, which will not affect the normal functionality of the machine. Return requests for such reasons will not be entertained.
The warranty policy for xTool's new products also applies in xTool good refurbished products. (However, refurbished products can only be exchanged for refurbished products, not new products). 
▸ Return & Refund Policy
Your package hasn't been shipped: In this circumstance, please email us at vicky@info.xtool.com to issue your order cancellation request within 12 hours. This is the fastest way you can get your order refunded. You are suggested not to open a chargeback, because your refund will thus be delayed, and a portion of the handling fee (charged by your paying bank) will be deducted from your refund by your bank.
Your package is on the way: In this circumstance, please email us at vicky@info.xtool.com to intercept your package by vicky@info.xtool.com as soon as possible. You will receive a refund for your purchase price and pay us the costs such as interception fees and additional duties incurred. Return shipping costs are non-refundable. You will be responsible for the cost of package interception.
Your package has been received: Once the package has been confirmed and signed for, you will not enjoy the current xTool official store return/refund policy. And the replacement policy is valid, however, refurbished products can only be exchanged for refurbished products, not new products). 
If you approve of our policy, your refund will be processed. PS: The percentage of service fee mentioned above is based on the total price of goods, including tax and freight.
▸ affirm Payment FAQ
Is it available for all orders?
Sorry, only for U.S. orders over $150+. 
What terms will be concerned when applying 0% APR?
When an order applies for a loan at checkout, affirm will consider some factors such as approval amount, term lengths, current economic conditions, credit score, payment history with Affirm, account activeness, etc.Usually 90%+ orders get a 0% APR approval. Some orders may not qualify for the 0% APR financing, in which case they will be offered 10-30% APR for the lowest term length instead.
Can I pay off my purchase early?
Yes! No penalty for paying early.
Will eligibility checking affect my credit score?
No. Checking your eligibility won't affect your credit score.
Do I need a mobile number to use affirm?
Yes, you'll need a mobile phone number from the U.S. or U.S. territories. This helps Affirm verify it's really you who is creating your account and signing in.
xTool Refurbished Laserbox Rotary FAQ
A: Laserbox Rotary is the upgraded version of Laserbox pro, and has all the functions of laserbox_pro. Except for the functions of rotary engraving, Laserbox Rotary has higher accuracy and stability (add a beam), while the continuous working time is also increased.
A: The dimension of work table is 500x300mm(19.69" x 11.81"). The max workpiece Height is 22mm(0.87") with honeycomb tray and 90mm (3.54") without honeycomb tray.The diameter of rotary engraving and cutting ranges from 3mm to 70mm(0.12"-2.76").
A: Our Laserbox is able to cut paper, corrugated paper, wood, acrylic, cloth, denim, leather, ABS-based color board, PET, rubber, cork, plastic, etc. The engraving materials are much more than that, including paper, corrugated paper, wood, acrylic, cloth, denim, leather, base plate, ABS-based color board, PET, rubber, veneer, cork, sandpaper, food, glass fiber, plastic, delrin, ceramic, coated metal, etc.
A: The depth is influenced a lot by power and speed when working, which will present as a frosted texture. According to our experiment, the maximum cutting depth of basswood is 15mm.
A:Our smart smoke purifier is not necessary, you could also connect a fan by yourself for air ventilation like glowforge and simply set it in the software, and even without a purifier or fan, our laserbox can work normally as well, but we recommend you to have one.
The smoke and dust could be eliminated through the exhaust pipe, but it is not as thorough as the purifier and exhaust fan, and you need to clean it manually with a vacuum cleaner or other tools. The smoke produced in the process of laser engraving or cutting is a normal phenomenon. This is because of the working principle of the laser machine, which is caused by high-temperature burning. It is recommended that the user lead the exhaust pipe out of the window to reduce the circulation of exhaust gas in the room.

Hot Deals
Grab a refurbished laser machine starting from $229.99 > >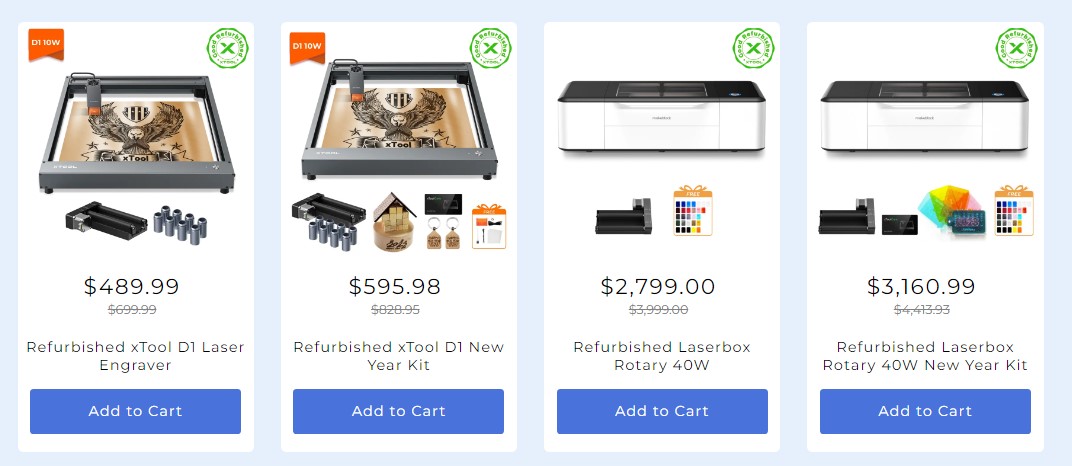 xTool Refurbished D1
xTool D1 is a higher accuracy DIY laser engraving & cutting Machine.
Grab a hot-selling refurbished D1 10W machine with the best discount!