Maxoak Bluetti Power On Sale

HOLIDAY SALE | SAVE UP TO $700 | SHOP NOW
Maxoak Bluetti Refurbished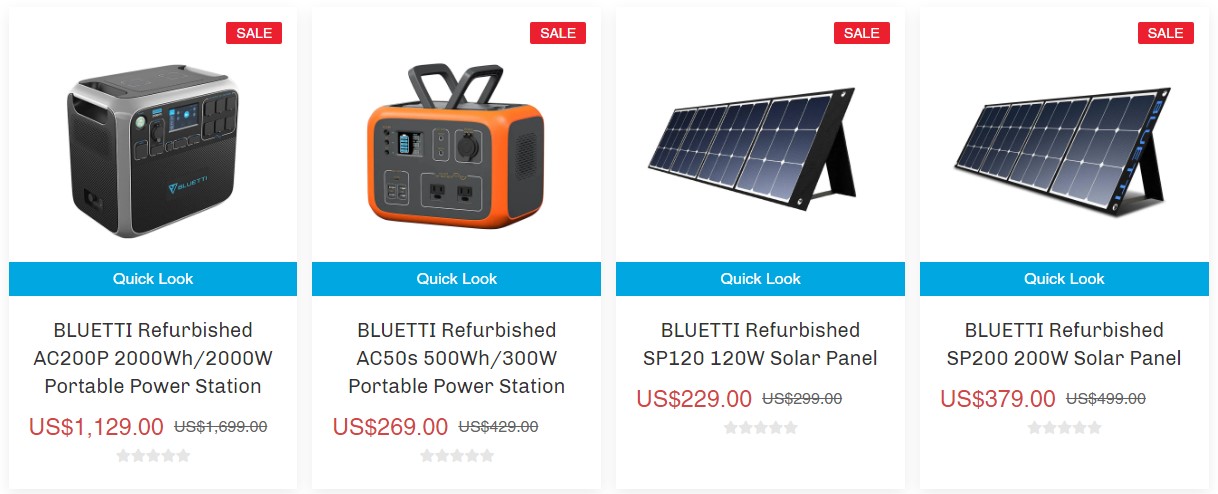 MAXOAK was founded in 2016 with the aim of providing people with a greener, convenient and comfortable lifestyle. It is a brand that encourages sustainable living and protection of the environment. 
We strive to provide products and services that put energy conservation and green lifestyles first. Our products focus on outdoor activities such as camping, vanlife, exploration, fishing, and roadtrips. We want to promote the beauty of outdoor living while making it convenient and healthy. We also create products that can be used in home, both indoors and outdoors, to provide the ultimate comfort and experience.
A Name that Represents Sustainability
MAXOAK is dedicated to sustainability, which is why we strive to create products that are environmentally friendly and energy efficient. We want to redefine the way people interact with the environment – by choosing us, you are making a conscious decision to help protect the planet.
Products that Speaks of Itself
MAXOAK's goal is to provide product that not only serve a purpose but also be different. We are committed to creating an environment where users can enjoy the journey of life, and strive to make this journey better with every step. Our mission is to become an indispensable companion of people's lives, and our vision is to create a world where everyone has access to the best products and services that bring joy and satisfaction.
Since our inception our clientele has crossed over 500,000 of valuable customers and are striving to cater more and more customers in the coming years.
At MAXOAK, we want to be part of your journey and take pride in helping you achieve your goals. we believe in maximizing positive energy and spreading this positive attitude towards life to people around the world. We believe that through our products, we can help people live their lives with greater happiness and satisfaction.
Maxoak Bluetti Power FAQ
Q: The advantages of a lithium power station compared with a gasoline generator?
A: It has below advantage compared with gas generator:
More compact and lightweight
Zero emissions, Eco-friendly
No fumes, Cost-efficient, less maintenance
Flexible recharge from AC/Car/Solar
Silent operation
Q: What are the occasions of portable Power storage?
A: Indoor and outdoor use such as:
Home backup
Festivals/BBQ/Party
Medical devices like CPAP
Outdoor adventure/travel/camping/tailgating/van life
Disaster relief like hurricane/flood/wildfire/earthquake power breakout
Event production/filmmaking/photography/drone…
With the portable power station in hand, there is no reason to be left in the dark if you suddenly lose power.
Q: What types of devices can your power station charge?
A: The power station can charge all kinds of devices such as CPAP, Laptop, Phone, tablet, led lamp, drone, car mini fridge, Gopro, SPEAKER, TV screen, Camera, etc.
Q: How long can the power station run my device?
A: You can roughly calculate the charging time:
you need to do some search or check the power of your device, it should not exceed our max. power limits.
charge time(rough calculated) = our power station Wh* 0.85 / operating power of your device
This is the theoretical value calculated: charge it without using it. Actual working time may vary on how you use the device, pls inquiry seller for details.
Q: What types of charging ports is your power station equipped with?
A: Our Power Stations featured multiple Outputs: AC, DC, and a USB port that can power up all kinds of small electronic gadgets ranging from laptops, smartphones, drones, go-pros, cameras, CPAP, and much more.
Q: How to recharge our power station?
A: Our power station can be recharged by a wall charger/solar charger and car charger. Some models need to buy a dc to a car power inverter for car full recharge. Pls, check with the seller before purchasing.
Q: How to choose the solar panel?
A: make sure it meets the below:
1)Open Circuit Voltage(OCV) is within our input voltage range.
2)The current and power do not exceed our max. input current/power limits.
3) With the same power connector (MC4 or Anderson).