BLUETTI EB70 716WH/700W PORTABLE POWER STATION Reviews

14 Reviews
$70 OFF, Use COUPON CODE: EB7070 Here! (The coupon is only for Eb70 single item),The bundle price is the final price!
Bluetti EB70 Is Smart And Powerful. A New Generation Of Portable Power Station With The Highest Security Level.
FREE SHIPPING & 2 YEAR HASSLE-FREE WARRANTY
BACKUP POWER FOR OFF GRID
Massive 716Wh capacity and 700W rated wattage makes EB70 an ideal power station for appliances like mini-fridge, air pump, laptop, and more.
STABLE & SAFE ELECTRIC OUTPUT
4*Pure Sine Wave AC outlets will protect sensitive devices by producing 110V US standard electricity; it will be much better than a modified wave outlet.
PREMIUM BATTERY
The ultra-stable LiFePO4 battery, due to its chemistry features, can offer BLUETTI EB70 portable power station 2500+ life cycles before reaching its 80% capacity. Built-in BMS is fundamental, which improves battery utilization and extends battery service life through short circuit/ overcurrent/ overvoltage/ overload / overheating protection and others.
2*PD 100W PORTS
EB70 utilizes two 100-watt PD outlet ports, which can charge Type-C port electronic devices super-super-fast, which means your phone/pad/laptop will reach 80% power within half an hour.
CHARGE MULTI DEVICES SIMULTANEOUSLY
4*110V AC outlets for appliances under 700W, 2*100W PD ports, 2*5V/3A USB-A ports, 2*regulated 12V/10A DC outputs, 1*12V/10A car port for car appliances, and 1*15W wireless charging pad.
FASTER SOLAR/AC/CAR RECHARGING
1) Advanced MPPT technology ensures faster solar recharge rates. With max input of 200W, this power station can be fully recharged in 3-4 hrs with solar panels (OCV 12-28V, 200W); 2) It can also get fully recharged from an AC wall outlet in 3-4 hrs or a 12V car port in 7-8 hrs.
EB70 Package Includes:
1*BLUETTI Portable Power Station EB70 (716Wh/700W)
1*AC Adapter & Cable
1*Car Charging Cable
1*Solar Charging Cable (DC7909 Male to MC4)
1*Warranty Card
1*User Manual
Battery Capacity: 716Wh
Battery Cell Type: LiFePO4
4*AC Outputs: 100-120V, 700W (1400W Surge)
1*Car Port: DC 12V,10A
2*DC Outputs: 12V, 10A, 5.5mm x 2.1mm
2*USB-A Outputs: 5V,3A
2*Type-C PD Outputs: 100W
1*Wireless Charging Pad: 15W
1*LED Lighting: Full Bright/Half Bright/SOS Flash Mode
Input: 12V~28V, 200W Max
Dimensions:12.6*8.5*8.7 in.
Weight: 21.4lb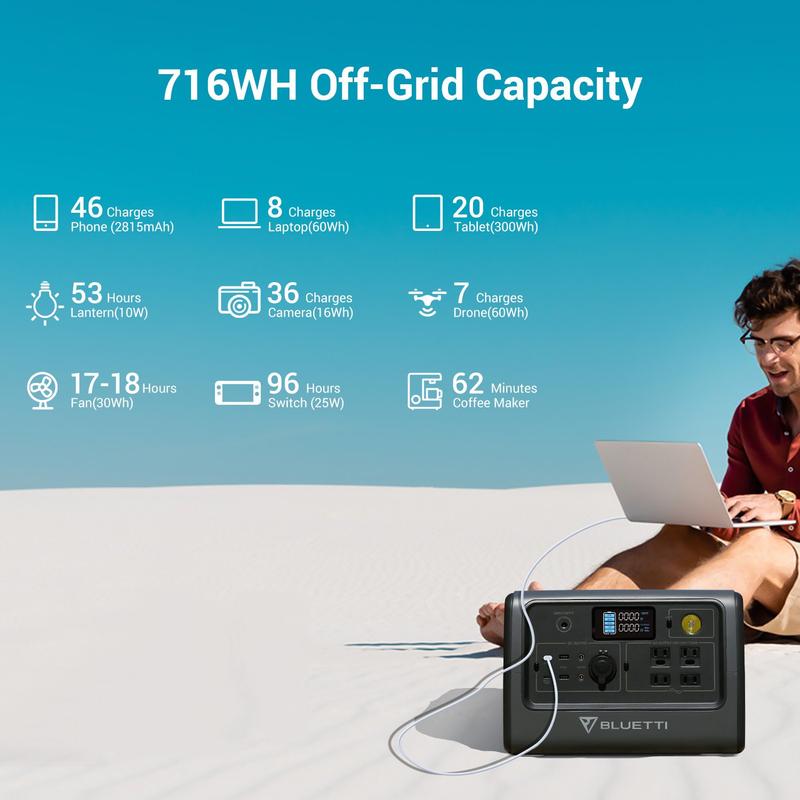 BLUETTI

EB70 716WH/700W FAQs

Q1: What devices can be charged/powered by BLUETTI EB70?
A:
At first, please check the rated power of your electronics. For EB70,
the maximum rated output power is 700W, which means that if the total
power of your devices exceeds 700W, the inverter will shut off.

Q2: How long will EB70 power my device?

A: Working time (estimation) = (716Wh*0.85) / operating power of your
device. Please note that the actual working time may vary under
different environments.

Q3: Can it be charged by using 2 solar panels in series?

A: Yes, just make sure the total open-circuit voltage (VOC) of the
solar panels is less than 28V, otherwise it may trigger the charging
over-voltage protection.

Q4: Can it charge and discharge simultaneously?
A: Yes, but it is not recommended to charge and discharge at the same time in order to protect the battery life."
BLUETTI

EB70 716WH/700W Customer Reviews

GREAT AFTER HURRICANES!
Thomas on Nov 14, 2021
The EB70 powers my 3.1 cubic ft dorm fridge for over 15 hours. I can charge it with two 100 watt glass solar panels I already have by connecting them in parallel and use a folding portable 100 watt panel when I`m camping.
If you want to know precisely how much energy is being consumed while using this power station, or any power station, buy a watt meter. All power station displays, no matter how precise they appear to measure battery use, are simply rough visual guides.
With a watt meter I know exactly how many watt hours my fridge has used and that lets me know exactly when I need to start thinking about recharging the power station. The Bluetti EB70 simply works and I`m a very proud owner of what I consider to be a high tech modern miracle device!

LOTS OF POWER! GREAT PRODUCT!
Ray S on Oct 03, 2021
Purchased this to act as a big brother to a smaller solar powerstation. And as a emergency power supply. I have since tested it throughout the house and it has run everything I have tested it on. My only concern is that I would like to see a more rugged design with some level of rain/splash resistence. Otherwise, it's great!

STORM READY
G. on Jul 20, 2021
Very impressed with the EB70. Saw it on YouTube. Researched other sources and decided it was the one for me. I have other units but decided, with technology improvements, to add this to my "stable". I got this to bolster my power availability.
Primary need is for medical devices when storms roll through. This unit will free up my other units to power other parts of my house. An actual % gauge (rather than the battery gauge) would be good. Not a deal breaker.
No plans to run it down to the last % at any time. Solid construction, compact, and easy to store. AC power brick is a bit noisy if that is a problem for some people. I'm not picky. Power is my main concern. I can charge on outlet in another room if I need silence.
I really like how Bluetti is cross compatible with other companies/equipment. Currently charging on a third party rigid panel but ordered the SP200 today for a little more convenience and capability.

GREAT FOR MY BUSINESS
Vinny Mozzarella on Jun 23, 2021
I bought the EB70 to see if I can make this work for my business and eliminate gas generators. I was a little skeptical at first but the EB70 surpassed all my expectations. I used the unit to power some Led lights and a cooler AC for an outdoor event I had.
I had everything plugged in for 4+ hours and still had 40% left. I was super impressed and will be buying a bigger unit or 2 to elimate all my gas generators and help my company go green. Thank you Bluetti.

BLUETTI EB70 716WH/700W Discount Code
BLUETTI EB70 716WH/700W  Portable Power Station

FREE SHIPPING & 2 YEAR HASSLE-FREE WARRANTY

BLUETTI
EB70S

716WH/800W(EB70 UPGRADE) PORTABLE POWER STATION

$30 OFF BLUETTI EB70S, Use COUPON CODE: EB70S30 Here!

EB70s Is Smart And Powerful.A New Generation Of Portable Power Station With The Highest Security Level.

Related Post – BLUETTI AC200MAX REVIEWS